Following the festival of Diwali 2021 comes Indian New Year 2021 in Vedic astrology or Jyotish.  This is Vikram Samvat 2078.  According to mypanchang.com, Indian new year 2021 falls on November 5th in North America, South America, Europe and India. This is the Gujarati and Marwadi New Year, as different regions of India will celebrate the new year at varying times.
Govardhan Puja
Govardhan Puja or Annakut is performed on this day in certain parts of the world. This year, Govardhan Puja is performed on November 5th worldwide, except for New Zealand and Fiji.  Krishna temples are renowned for their celebrations of Govardhan Puja.
This festival commemorates Shri Krishna's victory over Lord Indra.  Indra was using his thunderbolt (vajra) excessively to display his power and thus endangering many lives by creating a great deal of rain.  To save the lives of people, Krishna used one finger to lift Govardhan Mountain, which created the rain.  Krishna told his devotees to worship Govardhan Mountain so that they could honor nature.  Indian temples create a mountain of grains or food for Govardhan puja. A special chant for this day is the Krishna arati.
Traditionally, Indians celebrate new year's day by adorning new attire and going to their local temple first thing in the morning. If you aren't able to go to the temple this year, perhaps you can visit a website with a live puja or pray at your alter. 
They commence the year on a reverential note and pray for blessings for the coming year. Devotees offer flowers and sweets (mithai) to the temple. The first money they spend in the new year is an offering to a temple or some charity. Thus, they begin the year with an act of generosity.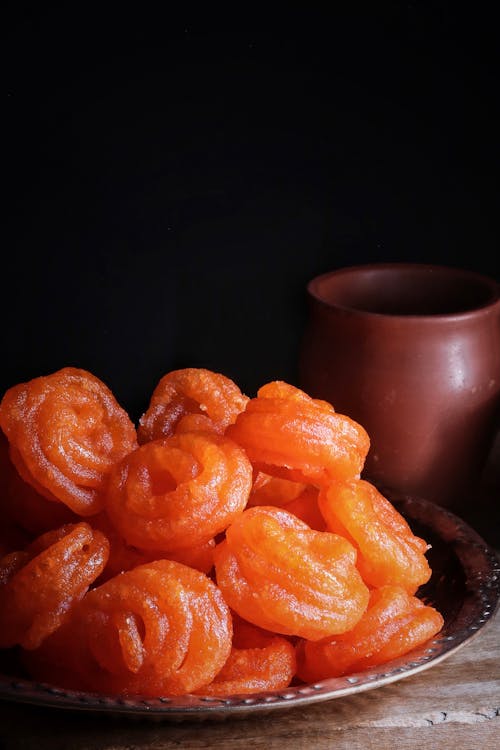 Indian New Year 2021 is the day when people lay their troubles of the past year to rest and begin anew. The new year is called "Bestu Varas" in Gujarati.  People apply fresh coats of paints to their walls.  Merchants close their accounting ledgers and begin a new fiscal year. Business owners perform puja to their ledgers, so that Lakshmi may bless them for the coming year.
Saraswati Puja
Students worship Saraswati, the goddess of speech, learning, and wisdom.  Students also do puja to their school books and notebooks.  The books are placed on a table or stool. Books are a symbol of sacred knowledge and consequently they are never placed directly on the floor.
Vedamurti Vivekshastri Godbole of Shri Krishna Yajurveda Pathashala in India advises. "Pray to Goddess Saraswati on New Year's day for good knowledge and wise thinking. Chant the Kundalini Stavah for Saraswati; this chant comes from Rudryamala. Pray to and worship your Guru.  Guru will give you proper knowledge.  Chant the Guru Paduka Panchakam which comes from the Skanda Purana.  Go to the temple, pray there, and offer dakshina."
Rituals for Indian New Year 2021
Women cook and share sweets with friends and family. Sweets stand for the sweetness in life, which we all savor. Sukhadi (soo-khuh-dee), a sweet made from ghee, mixed with jaggery, and wheat flour is usually cooked and offered for the New Year in Gujarat.  They add nuts and cardamom powder to this dish.  Finally, a sumptuous feast is prepared for the evening.
Traditionally, Indians will happily visit their friends and relatives, particularly their elders, and seek their blessings.  They wish each other "Happy new year" with the Gujarati greeting of "Saal mubarak" or the Hindi blessing of "Nutan varshabhinandan." During these times, personal visits may not be possible. However, we can convey our good wishes in our minds and hearts and meet via cyberspace or phone. 
On the first day of the Indian new year, the first four items which Indians traditionally purchase are green mung dahl, flowers, yogurt, and salt. Vedamurti Vivekji explains, "Mung dahl is wholesome for the body. There is plenty of salt in the ocean. Lakshmi arose from the ocean as one of the fourteen gems (ratnas) during the samudra manthan (churning of the ocean). Salt is her brother.  Krishna liked yogurt a lot.  In Ayurveda, yogurt has good properties when used properly."
Nutan varshabhinandan and saal mubarak to you for Indian New Year 2021!  Shubh Bestu Varas! May Lakshmi bless your pocketbook, may Saraswati sit on your lips, and may Krishna give you bhakti to guide your devotional practices.